TDN : Winter Tiki Drinks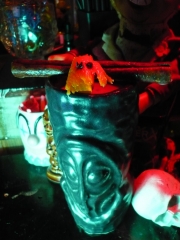 Over at the Mixoloseum Bar, you must know by now that we have weekly Thursday Drink Nights, right? This past Thursday's theme was "Winter Tiki" and the unstoppable Jeff "Beachbum" Berry dropped by to guest-host for a stint. We had a blast.
Quixotica
I have recently re-kindled my love affair with Cynar. I like playing resinous spices against the deep botanicals – you'll notice that the Poison Dart exposes this idea. What could add yet more holiday joy to that combo but Smith & Cross Jamaican Rum1 and hot milk, right? It's ideas like this which force the name:
Quixotica
1 oz Smith & Cross dark Jamaican rum
½ oz Cynar
¼ oz Pimento Dram
¼ oz Clove/Cinnamon syrup
dash bitters
Pour heated milk over other ingredients in a heat-proof glass or mug, dust with fresh nutmeg and garnish with cinnamon stick.
At that point, the talk went to Coconut Butter (and the problems finding a good product for drinks). I have some coconut butter myself, but have not as yet tried it as a cocktail ingredient. Wow. WOW. Yeah, I see a big future this winter season, all centered around coconut butter.2 The brand I use is "Artisana," and it is a raw, whole-coconut product. It is amazing. Behold my quixotica creation — a coconut buttered rum that may well ruin you.
The Bum Rudder
Bum Rudder
1½ oz Smith & Cross dark Jamaican rum
½ oz Falernum3
½ oz Don's Spices #23
½ oz Cinnamon Syrup3
1 tsp Coconut Butter
4 oz hot Apple Cider (non spiced)4
dash bitters
Pour hot cider over other ingredients in a heat proof glass or mug. garnish with clove-pierced orange peel and cinnamon stick.
..and now the savings!
This Christmas, Trader Tiki is giving out a 15% savings when you spend $20 or more. That's only about 2 bottles. You can get everything you need for these cocktails and more! When you get to checkout, use the discount code "ILUVBLOGZ." Tell him the Colonel sent you!
With your newly purchased syrups, you can check out all the other Christikimas recipes that we came up with on the Mixoloseum's Twitter Feed. Cheers!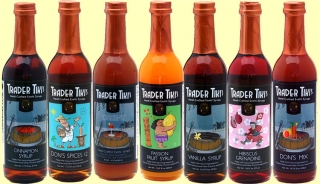 --